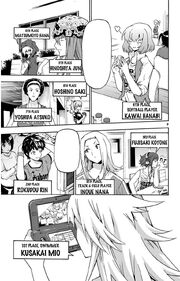 The Top 10 were ten examinees that temporary ranked at the top 10 grades during the Setouchi's second exam. They were the candidates for the Elite Class. However, some of them didn't manage to maintain their grades. As a result, they were replaced by the other examinees. Although Yuko Oshima failed to get into the Elite Class, she was accepted into Setouchi in the regular class. While the fate of the rest former Top 10 remains unknown.
The Top 10 examinee were:
Ad blocker interference detected!
Wikia is a free-to-use site that makes money from advertising. We have a modified experience for viewers using ad blockers

Wikia is not accessible if you've made further modifications. Remove the custom ad blocker rule(s) and the page will load as expected.