Shinkou High School located in Kobe, Hyōgo Prefecture, is Nozomi Kaminashi's old school before she enrolls into Setouchi Keijo Training School.
Overview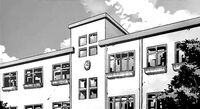 The school has a gymnasium. When Nozomi was still here, a lot of athletic colleges tried to recruit her. However, Nozomi decided to become a Keijo player instead. Thus, a lot of her friends from Shinkou, including Taichi and her teacher, oppose her from doing so. Despite this, Taichi, after being defeated by Nozomi in a trial match, eventually accepted Nozomi's decision.
Notable Teaching Staff
Notable Students
Ad blocker interference detected!
Wikia is a free-to-use site that makes money from advertising. We have a modified experience for viewers using ad blockers

Wikia is not accessible if you've made further modifications. Remove the custom ad blocker rule(s) and the page will load as expected.