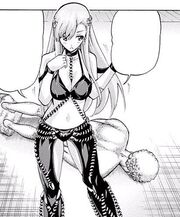 The Gabber Ero Swimsuit (ガバ へ 囗水着, Gaba Ero Mizugi) is a strengthened swimsuit invented by Nagisa Ujibe. The suit is equipped with springs. It is borrowed by Nozomi Kaminashi and is used by Sumire Sakuragi to improve her throwing technique the "Lock Hip Heaven".

Known Users
Ad blocker interference detected!
Wikia is a free-to-use site that makes money from advertising. We have a modified experience for viewers using ad blockers

Wikia is not accessible if you've made further modifications. Remove the custom ad blocker rule(s) and the page will load as expected.